And another...
Asmundson's Christmas Letter 2005
A Very Merry 2005 Christmas From Our House To Yours!
Happy Holiday greetings to all of our friends and family, near and far! This year has been a time of sweeping life changes in the Asmundson household as we collectively traveled places, graduated, bought houses, and started jobs. As always we hope that life brings you good things and perhaps swings you over our way for a visit.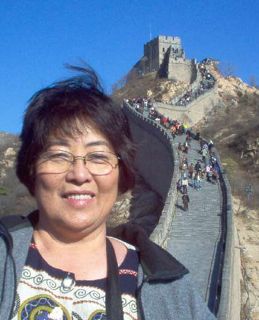 Ruth on the Great Wall of China Ruth has been enjoying her second year as mayor immensely. Throughout the year she has hosted several delegations from Davis' sister cities of Inuyama in Japan, Munoz in the Philippines, and Wuxi in China. Unfortunately in April she got caught in the rounds of pneumonia sweeping through town. One of the events she had to miss was the establishment of a new sister city, Los Baños in the Philippines. Instead she sent her daughters, Alinia and Vigdis, to do the honors. She recovered well enough by the end of the summer to visit her son-in-law's family in Elfin Cove, Alaska for the first time. After her too short vacation, Ruth worked hard on the Covell Village project but suffered the second campaign loss of her long political career. In October, Ruth led a sister city delegation to Wuxi in the Huishan District. Joined by Omen's mother, Mary Jo Lord-Wild, as well as eight other Davisites the group toured Beijing, Xian, Suzhou, Hangzhou, and Shanghai and Wuxi.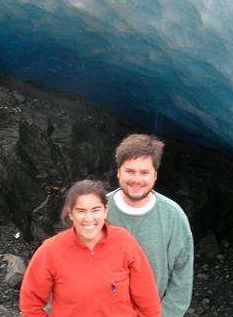 Alinia and Omen at the
Mendenhall Glacier Alinia and Omen have now made the move to Davis official and bought a house on Fordham Drive. After months of traveling — snowboarding trips with friends to the Sierras in the winter, Borrego Springs to visit grandparents in April, Omen to Alaska and Alinia to the Philippines in the summer, Seattle and New Jersey for weddings — they managed to settle down to the business of painting, moving in, and meeting the neighbors. Of course, buying a house means paying for it and so the two homeowners found themselves jobs. Alinia works as a project manager in the marketing department at Intel in Folsom; Omen consults on computer networks at a startup in town called Cace Technologies. Alinia is extremely jealous of Omen's biking commute, as are most Davisites nowadays. Alinia also started an organization mabuhaybooks.org to send books from the Davis area to schools and libraries in the Philippines.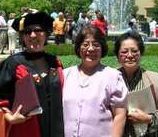 Irena, Ruth, and
Grandma Uy at the
Stanford graduation Irena finished her Ph.D. in Economics from Stanford this year, successfully defending her thesis. In September, she started a job with the International Monetary Fund in Washington, DC. As an economist in the Asia-Pacific Department, she has already been to Malaysia and will travel to Brunei in the spring. Although she misses California, life as an adult has its compensations. Irena bought a house with lots of space and a comfortable commute in Silver Spring, MD and looks forward to many visits from family and friends as well as planting numerous fruit trees in her large backyard. This month, the day before Christmas Eve, she will celebrate that fantastically fabulous milestone — her 30th birthday.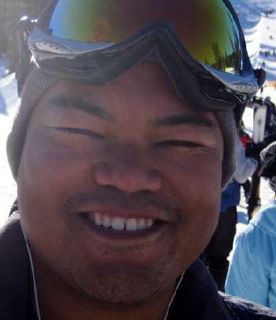 Wil enjoying the sun and snow Wil continued to enjoy time off: snowboarding, perfecting his golf game by shaving 10 strokes from his average and becoming a +40 handicap, and biking the trails of the Bay Area. He has also enjoyed being closer to both his grandmothers. Over the last year he worked on the Cartano family house in Richmond: physically and psychologically moving out decades of accumulation. As always Wil has continued to immerse himself in Apple technology and recently passed the Apple Certified Help Desk Specialist examination. He hopes to find a job at Apple someday soon to fulfill his long love affair with their gadgets. Vigdis earned her multiple subject teaching credential from UC Davis in June and began work on her Master of Education thesis this fall. She spent the summer in the Philippines with Alinia, visiting family and signing an agreement with Davis' newest sister city, Los Baños. Then she went to SangJu, Korea for a month where she set up an English teaching program. She returned to the Philippines in the autumn to research the effects of reading and English Language Learners in her mother's home village of Mabini. She quickly adapted to village life and she and the students had a wonderful time reading together in the village's new library. Back in Davis she was invited into the fold at St. James School where she now teaches 6th grade.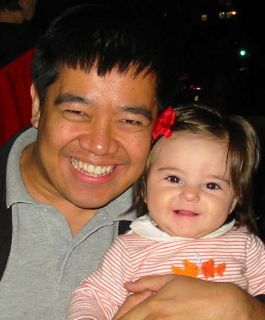 Jonas and Rose Winston,
a next generation musician Jonas just celebrated his second anniversary at Jazz at Lincoln Center where he develops and manages jazz education programs in New York City and beyond, most notably Essentially Ellington which distributes the music of Duke Ellington to over a thousand high school jazz bands in the US and Canada. In the past year, the mission of jazz education has taken him to Oregon, Texas, and Illinois and pleasure has taken him on a summer driving trip through the Northeast culminating at the wedding of two friends on the coast of Maine. Outside of the office, he continues to sing in a semi-professional choir and, with friends, has recently founded a new chamber choir for young and talented singers. Rehearsals will start in January and their first concert is already scheduled for March.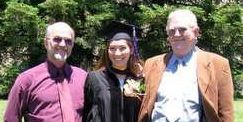 Uncle Rod, Sigrid, and Uncle
Michael at the UCD Law
School King Hall graduation Sigrid graduated in May from the UC Davis Law School, King Hall, where she was an Editor on Law Review and received the Hopkins Award from the faculty for best written Law Review article. Immediately after graduation she studied for two months to prepare for the California Bar exam at the end of July. After the Bar in August, Sigrid and her fiance Tyler bought a house and then took a month-long tour of Australia. This fall Sigrid began her new job with the law firm of Best Best & Krieger in Sacramento, where she works in the municipal law department, representing cities and special districts throughout California. Just last month, Sigrid was sworn in to the state bar and finally became an attorney so that she may follow in her father's footsteps.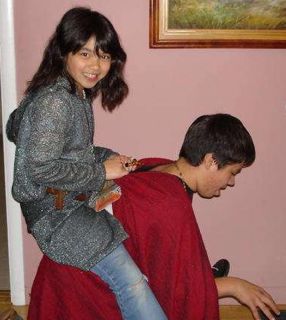 Leigh and Lyman as Joan de Arc
and her trusty steed Lyman, Leigh, and Aunt Josie moved out of the house this last spring and into a beautiful and centrally located condominium that Hazel purchased in El Cerrito. While we miss them all in Davis, their new home is conveniently located to all of their needs, Hazel's work, and Wil and Grandma Uy. Fortunately, they are also easy to visit as we did when we celebrated a lovely and very grateful Thanksgiving together with them.
So to end our litany of joy: Merry Christmas, Happy New Year, and much love and kisses. With the many climate changes in the news, both political and geological, we hope that you will have time to tell us of your own life's events, big and small. We always welcome visits both planned and unplanned and since we all now have our own places you have your pick of places to rest your head.
With Love,
The Asmundson Family
---
Contact the webmaster (remove all spaces): webmaster @ asmundson . com

This file last modified Wednesday, May 6, 2015.